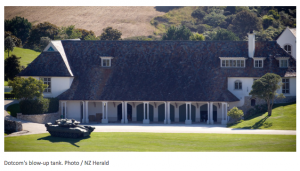 Internet mogul Kim Dotcom is auctioning his set of life-size Star Wars storm trooper toys and the infamous blow-up military tank that sat on his lawn in the aftermath of a high-profile police raid this year.
The German-raised New Zealand resident is letting go of the keepsakes to support two Auckland-based entrepreneurs, who he mentors.
Social media consultant Ken Brickley and Neil Campbell, of auction house Webb's, launched their online auction tool Buddy Bid this week.
Users download a tool on to their Facebook profile and, when they put an item up for sale, the live auction appears on their friends' Facebook homepages. When friends place bids, the bids appear on their homepages as well.
Campbell said the idea was born after one too many "creepy" Trade Me experiences.
"Everyone has at least one story of the weird guy that turned up at their house to pick up the stereo. We wanted to make something that enabled people to be able to sell within their own networks," he explained.
"It operates on the idea of a social contract – you're not going to rip someone off if they are within your own network of friends."
He said the support of Dotcom, which came after a chance meeting, had been "generous and priceless".
"He's such a nice guy," Campbell said. "We've got huge capacity on servers all around the world, but I think we will be holding our breath if he tweets it to his followers."
Dotcom has collected nearly 137,000 Twitter followers in just a few months on the social network, and his tweets, in turn, are often retweeted to tens of thousands more people.
The Buddy Bid tool has already been discovered – without the involvement of publicists – by Grattan McCoach, the UK managing editor of Huffington Post. He put a second-hand baby buggy up for sale.
The entrepreneurs were yet to make money on the tool but said there was potential to charge a fee to businesses.
Source: http://www.nzherald.co.nz/nz/news/article.cfm?c_id=1&objectid=10841883