By Nikki Mandow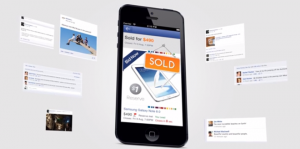 With all the inane questions, like farming and 'brain teasers' posted on social media, many brands seem to think their customers are absolute morons. But as ASB's well-awarded Like Loan showed, social media can occasionally serve a useful commercial purpose, with all the likes the app received giving the bank the details of almost 18,000 potential customers and delivering a solid business result. That campaign was a bespoke app, but a similar philosophy applies to Kiwi social auction company BuddyBid, which is currently raising some cash to take the idea overseas.
Released without any publicity in late 2013, the Facebook social auctions platform already has generated activity in 104 countries and more than 200,000 social brand stories in friends' news feeds.
BuddyBid now has eight staff, and customers include House of Travel, Turners Auctions, Fairfax and major Australian ecommerce site Grays Online.
This week the company will finalise a contact with the charitable arm of burger giant McDonald's to use the app to auction vintage collectables to raise money.
Campbell has brought in former NZX chief executive Mark Weldon as an investor and director and has secured the services of Cameron Partners to raise "a handful of millions of dollars" of capital from Australasian and US investors.
The capital raising starts this week, and the official launch takes place over the next couple of months, says BuddyBid founder Neil Campbell.
Campbell, who was chief executive of Webb's auction house until its sale to Mowbray Collectables in November last year, says the product development started in 2012 to take advantage of latent demand for social media auctions.
"We used Google trends and when we put in the words 'Facebook' and 'auctions' together we could see they were search terms that were being used more and more each month. There was a natural demand developing of people that wanted to sell through their own networks, but couldn't do it at that time."
While Campbell always intended BuddyBid as a global app, this was confirmed right from the start, when the first organic sign-up for the beta product was an American man wanting to auction a signed baseball to raise money for his son's music tuition.
"It worked perfectly. He raised about $US600, with friends or friends of friends supporting the listing. It gave us a strong sense that the product was needed."
Since then, over 750 companies have used the BuddyBid app to sell everything from holidays to motorbikes, wine to African art.
The product has three revenue streams, Campbell says: monthly licence fees, a percentage levy from every transaction and payment for providing data to the company running the auction.
For example, BuddyBid gave a travel company running a fire sale cruise auction details of the losing bids, and how much each potential customer was prepared to offer. Following up these leads generated almost $30,000 of additional sales.
Campbell says one of the advantages of his product, which is also compatible with LinkedIn, Twitter and Pinterest, is that it can be customised for individual clients, with a white label version of the BuddyBid auction platform meaning no third party advertising on the page.
He says the capital raising, which will provide two or three years' growth funding for the company, comes earlier than expected.
"We have just had our first two profitable months, and we weren't expecting that until late this year or early 2015. We decided to seek funding to accelerate the recruitment of a US and European sales force."
The third member of BuddyBid's board is former Silicon Valley entrepreneur Ken Brickley, now the company's chief executive.
And edited version of this story originally appeared on idealog.co.nz