Things are starting to move for BuddyBid, the new auction service set up by Auckland entrepreneurs Neil Campbell and Ken Brickley
NBR rather likes the cut of this duo's jib.
Rather than take on Trade Me head-on, they've created BuddyBid, social auction app for Facebook.
The platform is ready-made. And while other Trade Me wannabees are pretty much limited to NZ's borders, BuddyBid has the world – or at least the 1 billion souls on Facebook – as its potential market.
You can use BuddyBid to auction an item to your Facebook friends or, if you've a company, use a white-label version of the app to run an auction under your own brand – as Cruise Sale Finder just in BuddyBid's first largest BuddyBid auction of its type so far (a $A9000 cruise sold for $A7000).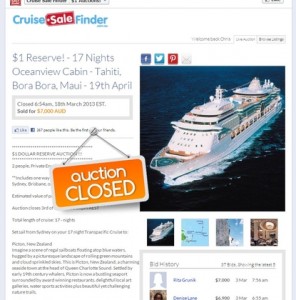 "It was the first that went for more than $1000 and more importantly the first where we were able to measure all the viral metrics carefully. We have customers auctioning off all sorts, from jewellery sales in the US to rental camper vans in Spain," the co-founder tells NBR Online.
"It's a very levelling playing field for even small brands who've done well accumulating a strong and active social following."
The service is free during its current beta (test) phase. Fees will be charged after the commercial launch.
The auction format provides a point of difference with Facebook's fixed-priced daily deal type service, and the campaigns sometimes run by companies to give you a discount on a product or service as a bribe to "Like" it on the social network.
Brickley has just quit his ad agency job to focus on BuddyBid full-time (Campbell remains CEO of real-life auction house Webbs – not a bad place to cross-promote the pair's online venture).
A lot of his effort is is focused on a capital raising round.
"We're in discussions with many US companies on several fronts," Brickley told NBR. He now sports a US number on his business card (along with his US contacts) and is shuttling between Auckland and San Francisco.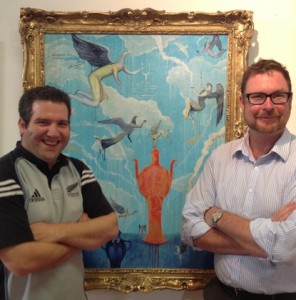 Brickley no Bay area newbie. Most of his family is in California. And, more, he's a former vice president at Zeacom, the Auckland-founded telephony software company that sold to Canadian interests last year for around $US30 million (making it yet another in a long line of tech companies that have snuffled millions in taxpayer grants only to be bought by an offshore company).
It's very, very early days for BuddyBid.  But Brickely has already pleged to keep it local – if he can.  "Whichever funding source we choose, ideally I would like to keep the entity within New Zealand," he told NBR.
"I've been involved in two other companies where we had to move the corporate structures to Delaware in order to accept capital from US investors. That's not ideal for improving roads and schools here in New Zealand.  This country is a very impressive draw card for smart engineers and I'd love to see the ecosystem for global startups develop further here."
And what of Kim Dotcom's pledge to list items using Buddy Bid?
"All in due time. We're in touch and he has a schedule of events planned," Brickley says.
While waiting for the next round of free publicity from the giant German, Brickley has plenty to keep him going. Beyond the money search, he's looking at opportunities in vertical markets including franchises, charities, celebrity management, TV/movie studios and advertising agencies.
Source: http://www.nbr.co.nz/opinion/social-auction-trade-me-alternative-finds-its-feet